I've had earache for a few days now and didn't have a heating pad so I whipped up a rice bag, popped it in the microwave, and now my ear is feeling much better! It took me 20 mins from start to finish and my ear is definitely thanking me!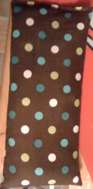 Hope everyone enjoys the rest of their weekend! Looks like we are suppose to get us some snow tonight!
Sending creative vibes to all!!